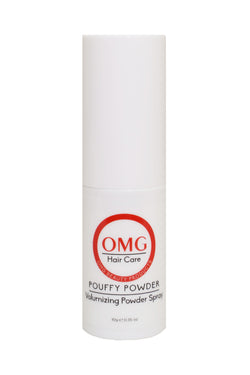 OMG Pouffy Powder Volumizing Powder Spray
OMG POUFFY POWDER VOLUMIZING POWDER SPRAY
A Volumizing styling powder that provides extra volume for your hair.  This Volume Powder is easy to apply and will last all day.  Hair can be styled and restyled anytime. Our Volumizing powder is suitable for all hair types.  ** Our matte finish boost powder is the perfect solution for those wishing to add texture to the hair without weighing it down. Its lightweight composition will dramatically increase body to the hair. Neutral fragrance
Application: Simply direct the nozzle straight at your hair and spray sparingly. Using fingertips simply go through and separate the hair for a textured look or brush the hair for a more manicured look.
'Goodness in a nutshell'
Rice Starch to absorb oil and create texture
Silica Silyate (Powder) Dimethylimidazolidinone (Rice Starch; Oryza Sativa),  Synthetic Amorphous, Silica, Mica (Colourants C.I.77499, C.I.77491).